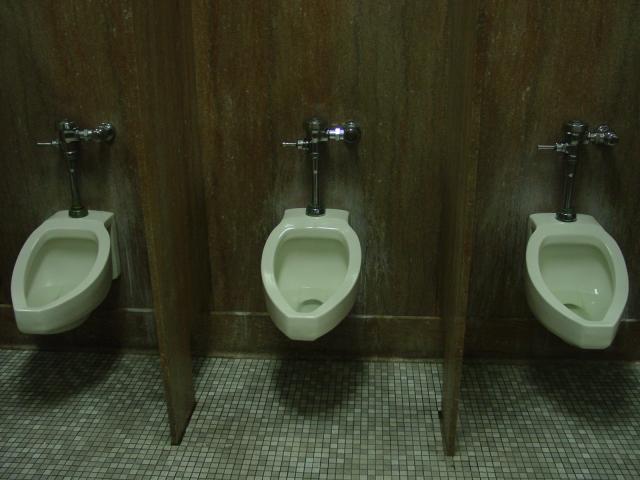 This picture was submitted by CTTF in 2008. He writes: "This capitol is the tallest of all non-skyscraper [state] capitols [in the US], even taller than the nation's capitol building [in Washington, D.C.]. It is the 6th and current building, having to be built after the population boom back in the 1800s due to Illinois' fertile land. Ground was broken in 1869, and it was finished twenty years later in 1889."
This second photo was sent in by Dan Heuser in 2011. He writes: "This urinal can be found in a small and hidden restroom in the basement of the state capitol building. I assume it was put there for security guards, which are stationed at an entrance nearby. The most interesting part is that the restroom does not have a toilet, only a urinal and a sink. This makes me wonder what the security guards have to do when they have to take care of more serious business."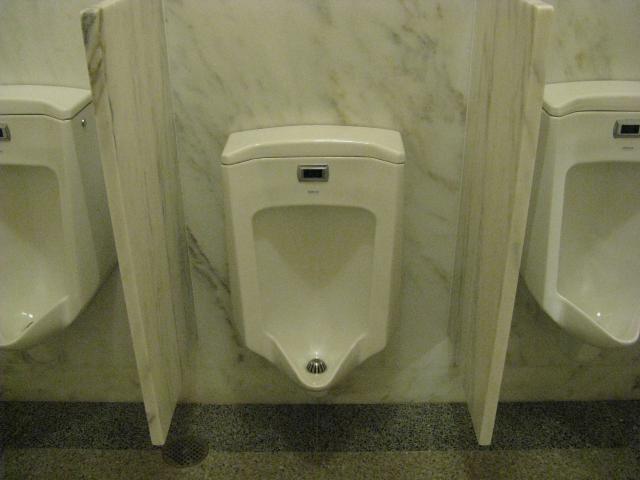 This photo was sent in by CTTF in 2015. He writes: " I have an update for the page for the urinals of the Illinois State Capitol in Springfield, Illinois.
"Originally, the restrooms on the first and second floor of the north wing consisted of the men's room on the right, and the women's room on the left. A recent renovation in 2015 turned the women's rooms into more offices while the men's rooms were divided and became the new men's and women's restrooms for the capitol building.
"Originally, the men's room was an array of 5 urinals on one side of a wall and toilets on the other, that wall was completely partitioned in the renovation. The side with the toilets became the new women's room. The urinals in the old photo above were removed along with the old water-damaged hardwood walls and the restroom redone in marble. The toilets of the new men's room occupy the place where the old urinals were. The new urinals are located inside a small nook to the right as you enter.
"It was very tricky to get a shot of all three urinals as there was not a lot of space to move back and get all three in the shot."