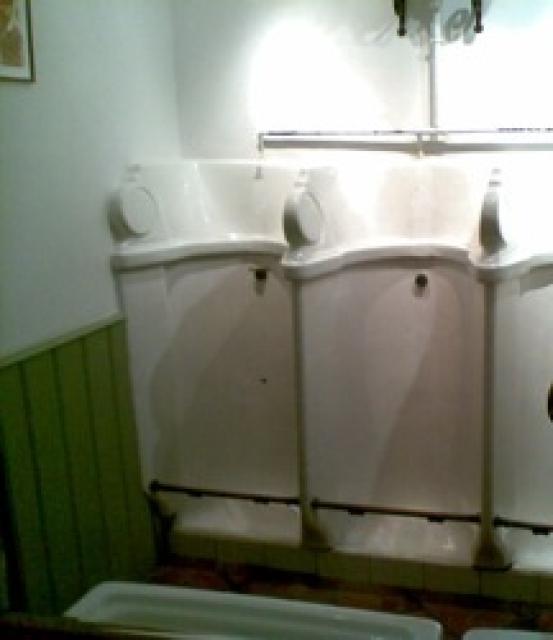 These photos were submitted by C.Gee. He writes: "I have long been an admirer of a fine porcelain urinal. Pubs nowadays put so much effort into making their bars individual, quirky and welcoming. To enjoy the atmosphere they have lovingly created can be such a pleasure, until one visits the gent's room and finds that such efforts have abruptly stopped at the door. The individuality and artistic flair that consumes the rest of the building suddenly gives way to a bland environment, one that in the UK tends to go hand in hand with mass-produced bland and lacklustre urinals - usually the likes of porcelain companies such as Armitage Shanks. The disappointment is all so bitter that many fail to even notice, its as if they simply block the experience from their minds instantly!
"It is only when such people are actively engaged in a conversation about urinals in pubs that they are forced to wake up to these sad facts. I don't go looking for the finest urinals, I simply enjoy them where I find them. With this, please see my submission attached. I believe this to be the finest Old-English Gentleman's urinal in the world, possibly even the whole of the United Kingdom. Never before have I witnessed such a finely crafted edifice, one worthy of both one and all.
"Such is the presence of this urinal, it makes me ask a serious question.... Does this urinal put the magnificence Sistine Chapel to shame? ... Well, yes. Yes, I believe it does.
"Gentlemen, I invite you to behold the floor-standing, shoulder-high pissoir at The White Horse, Moretonhampstead, Devon, United Kingdom. Gone are the days where they make them like this..."