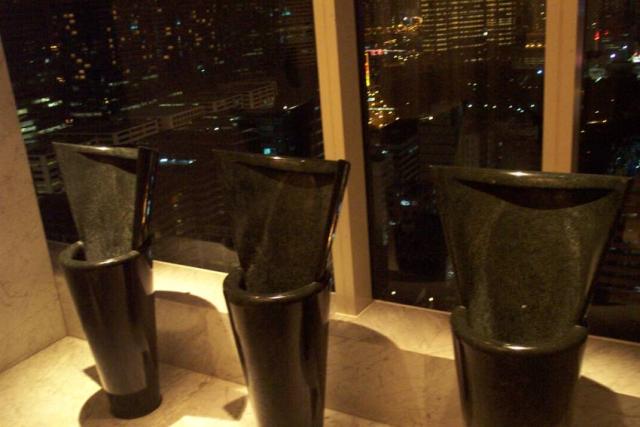 The three granite fixtures are found behind a curtain and are set in front of a huge window overlooking Kowloon.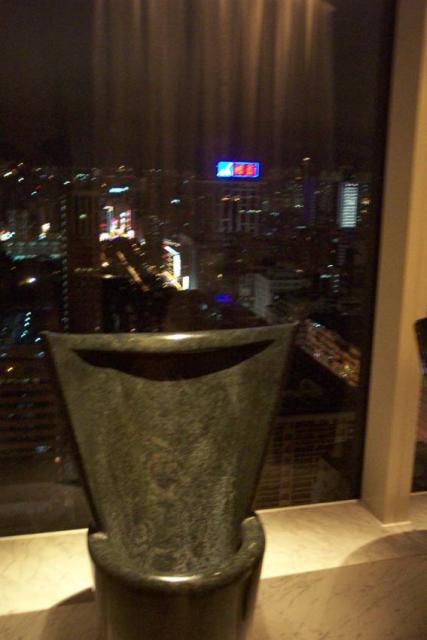 In these closeups you can see the brightly lit-up cityscape that unfolds below.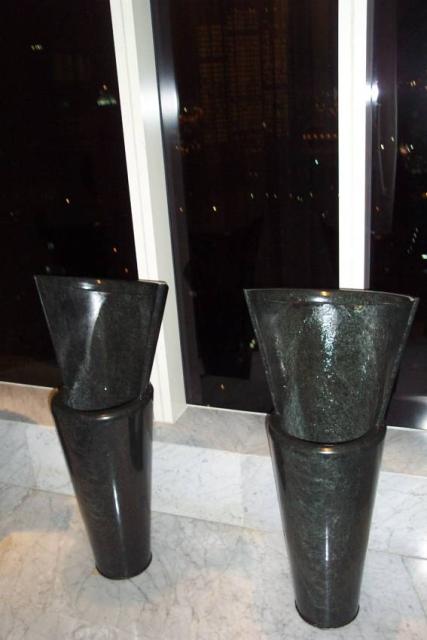 Larry wrote in to add: "When Felix first opened, the men's washroom was different. The urinal was in the same place as it is now but there were no urinals to speak of.... Let me explain... The floor to ceiling glass wall was the urinal. ...One could look down at Kowloon and all its glitter. I don't imagine the residents and shop keepers of Kowloon would think this is funny or Feng-shui. The washroom was originally designed by Phillipe Stark."
Dieter wrote in to respond: "The text accompanying the picture says the glass wall is the urinal; I question this. If one was to urinate against the windows, they would be difficult to clean and there is an inherent draining problem."
A few months later, Joe from Hong Kong contacted us with this fascinating account: "On the photo of Number 7 of the Top Ten Urinals, one guy said he couldn't imagine how one is supposed to be urinating against a glass window. You see, along the top edge of the huge glass pane are water outlets and along the bottom edge of the glass is a drain. Along the left and right edges of the glass are motion detectors/sensors. When one pees on the glass, the detectors sends a signal to the water outlets along the top which shoots out water, flushing away the urine and all is drained away at the bottom. I am actually a girl, so have not been in the men's room. But I was there for the opening and many times thereafter and I was told by my brother and friends who went inside the men.s room that one just urinates directly against the wall, the water sprinkling down from up top, the drain, the sensors, etc. In fact, many of them said when they first went into the men.s room, they had no idea where to urinate because there were no urinals and the sensors and drain were very subtle and the water sprinklers hidden from view. Took them awhile to figure out they were supposed to urinate against the wall. So I am pretty sure in the past, the black fixtures did not exist. Whether or not one urinated on the glass window or another wall in another part of the bathroom, I don't know. The last time I went with my brother in 1998, he did not say that the black marble urinals in your photo were installed, so I am assuming that they were installed after that."