The ferry terminal building also serves as the terminal for the Staten Island Rapid Transit trains, operated by the MTA, which also runs the New York City Subway, Surface Transit, LIRR and Metro North commuter railroads, as well as numerous New York area bridges and tunnels.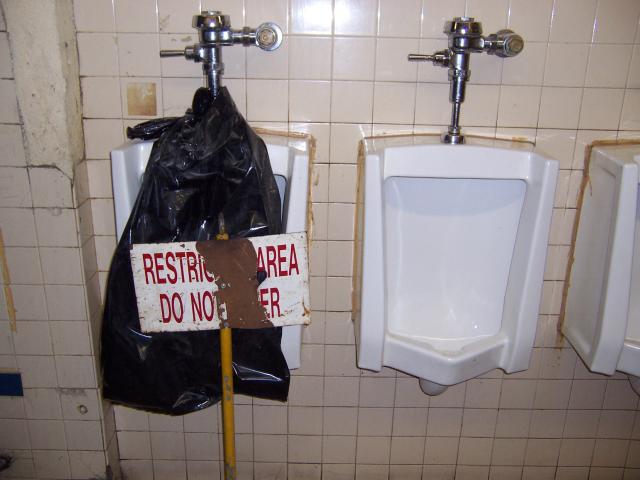 These pictures were taken in late 2004. JG writes in in 2006 to point out that this facility has been completely renovated: "The Staten Island Ferry Terminal has been completely renovated. The bathroom and urinals DO NOT [author's emphasis] look like that any more."

JG provides us with an excerpt from the Staten Island Ferry website, which reads: " Mayor Michael R. Bloomberg marked the official reopening of the St. George Ferry Terminal, following extensive renovations, on May 20, 2005, at a ceremony that followed the maiden voyage of the .Sen. John J. Marchi. ferry boat. The $130 million renovation of the 55-year-old St. George Terminal features floor-to-ceiling glass for panoramic views of the harbor and incoming ferries. The transparent waiting room is secured by ornamental rails. The new terminal's steel and glass design provides natural lighting and views of the Manhattan skyline. The ADA compliant facility features a heated and air conditioned waiting room, accessible by escalator and elevator, and 20,000 square feet of newly constructed retail space, which will potentially include a waterfront restaurant. A pedestrian walkway connects Richmond Terrace and the terminal entry, while another walkway provides a scenic link to the nearby minor league ballpark.

"The terminal also contains upgraded restrooms, public address system and new signage. A Photovoltaic louver system will save 25% of the energy needed to operate the facility. Other "green" features of the facility include an 18,000-square-foot living roof which will support living vegetation of local flora is visible from the public viewing area of a waterfront plaza atop the terminal building. Instead of a storm water drainage system, run-off will be collected in a cistern and used to irrigate the soil of this roof-top garden. Passengers will eventually enjoy two salt-water aquariums in the waiting room funded by Borough President Molinaro and maintained by the Staten Island Zoo. The New York City Economic Development Corporation administered the project on behalf of the Department of Transportation. The New York office of Hellmuth Obata + Kassabaum was the architect for the project, and construction management services were provided by Skanska USA"

.