Foggy Bottom Beer is brewed by Olde Heurich Brewing Co
Olde Heurich Brewing Co is "A Washington, D.C. Tradition Since 1873". That's why they make this poster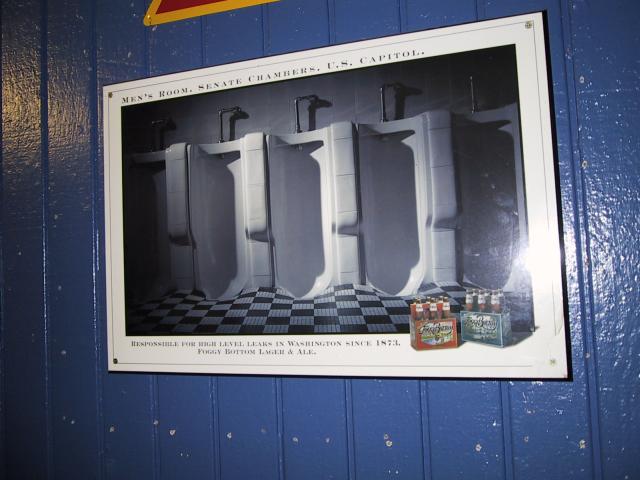 Since this poster would be invaluable as a decoration for the corporate offices of Urinal Dot Net, our Procurement Coordinator has sent the following letter to the good folks at Olde Heurich Brewing Company:

From: Joe U. Rinator <editor@urinal.net>
To:   lager@foggybottom.com

Hello --

On a trip to Baltimore last weekend, I saw an advertisement for Foggy
Bottom in the Men's Room at a bar.  The adverstisement was an image of a
row of urinals, with the caption of "Responsible for High Level Leaks in
Washington since 1893"

If possible, I would like to obtain a copy of this poster, please tell me whom I
would need to contact in order to do so.  

Thank you,

Joe U. Rinator


As of 3/20/00 the kind folks at Olde Heurich Brewing company wrote back saying that our posters are in the mail.
As of 5/20/00 the poster has not yet arrived, nor has the sender of the poster responded to our anxious inquiries.
As of 7/20/00 the staff of Urinal Dot Net has given up all hope for ever seeing this poster again.
On 3/20/01 several copies of the poster were received at the Urinal Dot Net offices. A hearty Thank You goes out to all the folks at Foggy Bottom Brewing! These posters are now gracing the walls at headquarters.