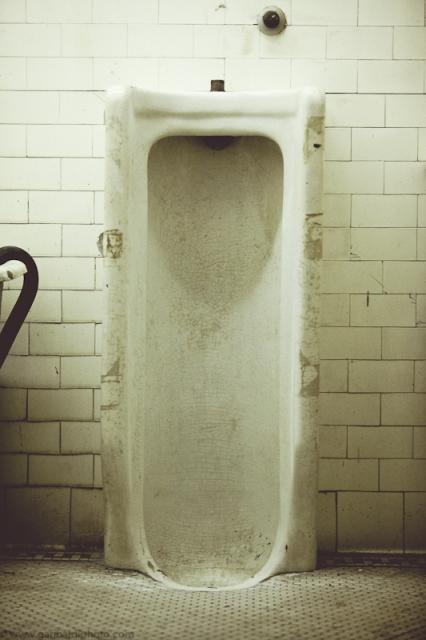 These pictures were taken and submitted by Christian in 2011. He writes: "To whom it may concern,
"I was made aware of your site by a friend of mine David Hurlbut, who own the Harmony club, whose urinal you have featured on your site. I have to be honest, I had no idea such a site existed! hahah, a site devoted to urinals! Brilliant!
"Anyway he and I were speaking and he mentioned that he had gotten his urinal up on here and I went and checked it out. I have just purchased and am living in an old firehouse right outside of NYC in Bayonne NJ. It was built in 1883 and was used by the city up until 2009, when they shut it down and sold it at public auction this past February. I just closed on it and moved in a little over a month ago. Its a little over 5000 sq feet and has a lot of the original features still intact throughout. One of which is the old full bath in the garage which I am enclosing images of for your consideration. I have not touched it yet, and do not plan to aside from a good cleaning. I love the character and old subway tile and fixtures. One of which is an old urinal (which actually up until a couple of weeks ago was cemented up and sealed at the drain due to a slow empty, according to the previous firefighters who ran out of here). Instead of repairing it, they dumped a bag of quick-crete in the basin and duct taped an X over the front. I spent an afternoon with a grinder and hand chisel carefully breaking up the cement and opened it back up. Lo and behold, it drains fine! The original flush valve has been removed, and I am on the lookout for a replacement (If you have any sources or know of any leads to find on old one, please let me know!). In the meantime, when I use it, I manually flush it using the garden hose and nozzle just outside the door in the truck bays!"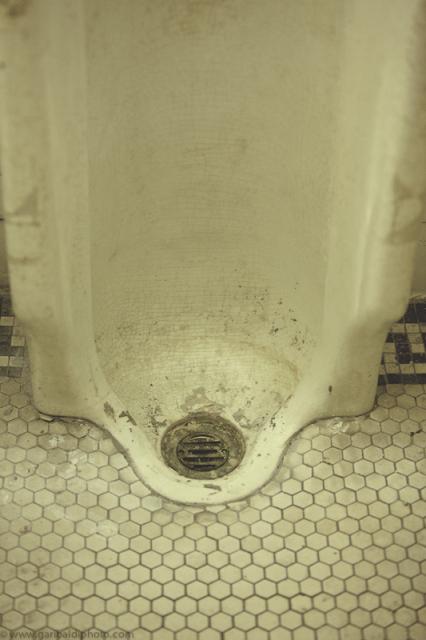 "I think that it is a beautiful urinal, it has all hairline cracks under the surface, and oxidized brass fittings. The walls surrounding it are covered with old original subway tile, and the black and white honeycomb floor tile, marble door threshold, soapstone shower basin, vintage porcelain slop sink and L flush toilet just have such a fantastic old vibe to them, I had to share. This bathroom will not be renovated, or touched, or modernized in any way. I already have an old salvaged proper black toilet seat to replace the white modern one, I will wipe down the surfaces, source an old flush valve, and am on the lookout for an old soapstone slop sink to replace the second sink that is out of frame to the right which is a plastic p.o.s from probably home depot."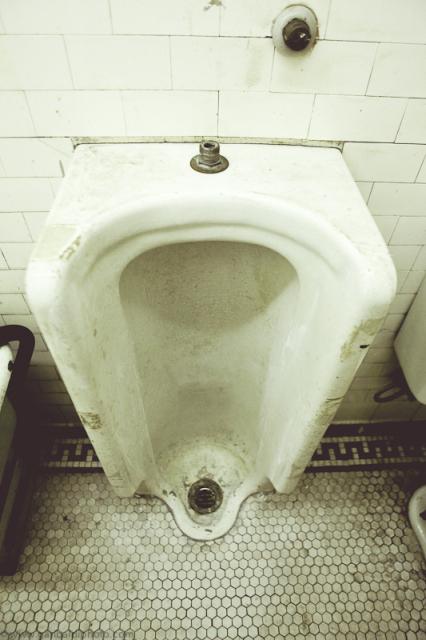 "I have a list of a thousand things I plan to do work-wise on this big old building, most of which revolves around maintaining it original features and charm, but again, I thought that you and your readers may appreciate some pics of this relic. I usually wonder how many guys have taken a squirt in this thing since the late 1800s."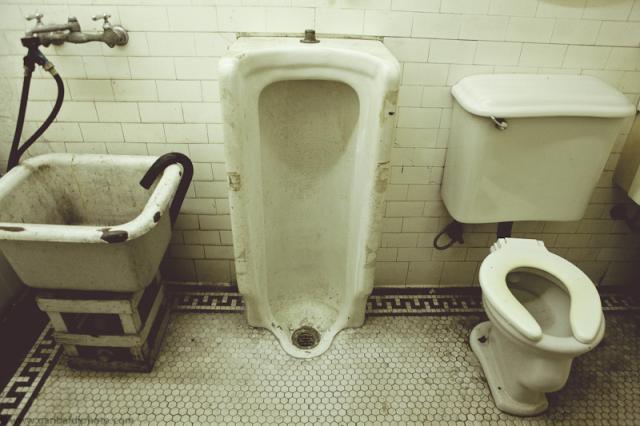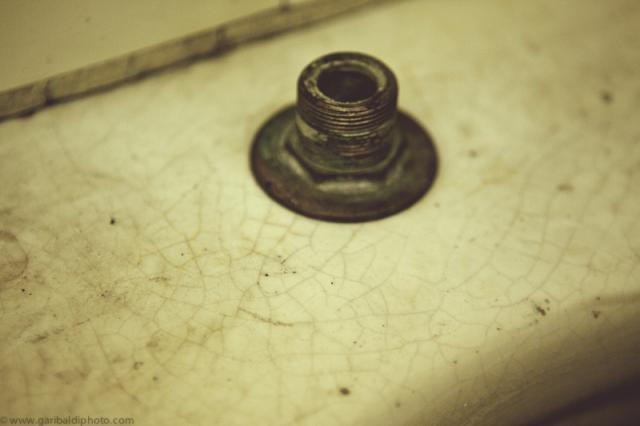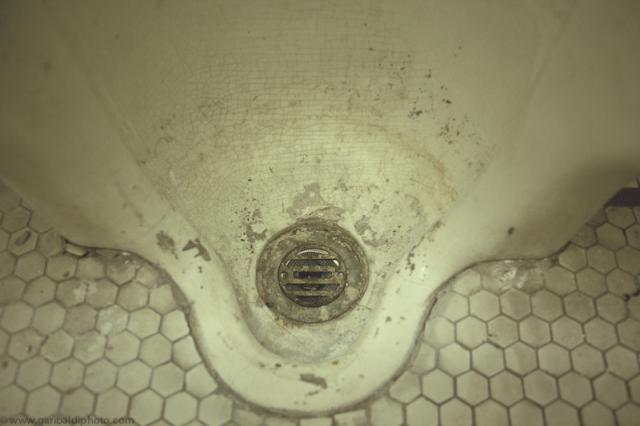 "BTW, the second bathroom on the second level of the building also has a urinal, along with double showers and two toilets that are literally right next to one another, army style, with no divider. It makes for great team shitting! Its a more recent bathroom, and doesnt have anywhere near the same vibe as the first, but I have included images of it none the less for your consideration as well.
"I have found since moving in here, that it is actually one of the highlights of the start of everyday to take a leak in a urinal in my own house, not only is it saving water over flushing a toilet, but I chuckle because not too many people I know can say that they have urinals in their home.
"Thank you kindly and hope to have my urinal included on your site! Photos below!"