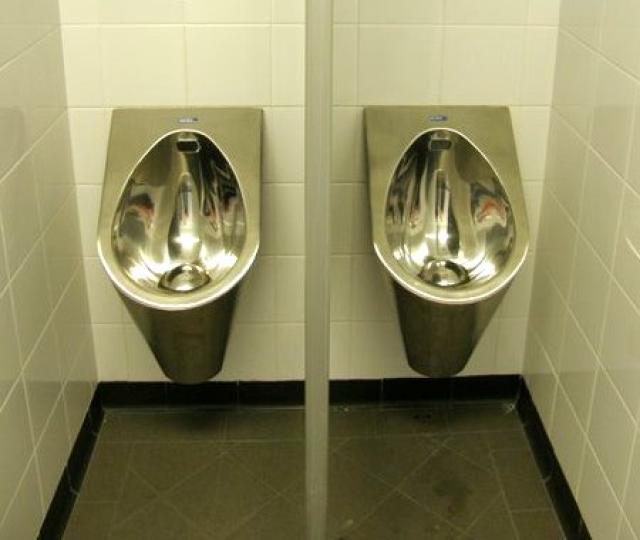 Britex Stainless Steel is famous for manufacturing urinals with built-in televisions, such as this one at Slattery Auctions. This picture was sent in by LJ at Britex. He writes: "These stainless steel waterfree urinals were recently installed in our very own male bathroom at Britex Stainless Steel HQ in Melbourne, Australia in an effort to do our part for the environment through water conservation. Being a large manufacturer of stainless steel products, it's important to practice what we preach and install the same water saving urinals we sell to our clients in our own manufacturing facility.
"Designed to function without any water, Britex Stainless Steel Barren waterfree urinals provide further benefits to the environment being manufactured from 100% recycled stainless steel.
"Maintenance costs are also a thing of the past. Unlike other waterfree urinals that require regular maintenance and the replacement of cartridges or sealant fluids, the Barren waterfree urinal utilises a unique 'one-way valve'. After urine has flowed through the valve, it closes up and traps all odour within the plumbing. The only maintenance Britex recommends is the occasional squirt of fresh water or disinfectant over the urinal surface, just like any other bathroom sanitary fixture.
"The Barren 'Auto-Clean' model shown in the picture is supplied with an automated flushing mechanism that executes a micro-volume flush cycle periodically to ensure plumbing pipes are kept clean. A 'Self-Cleaning Waterless Urinal', if you will!"