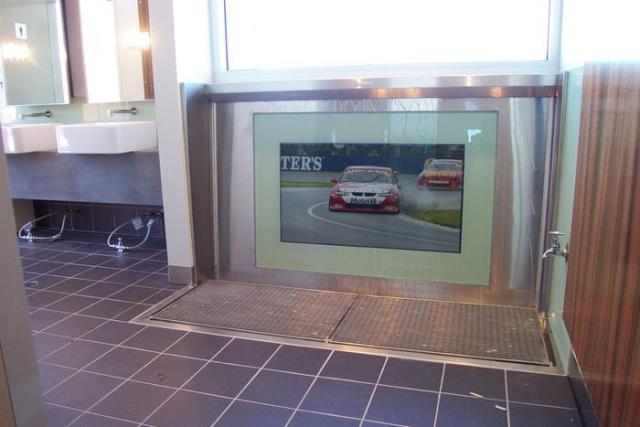 These pictures were sent in by Luke Johnston who is the Manager of Marketing and Development at Britex, a plumbing supply manufacturer based in Bundoora, Victoria, Australia.
Luke writes: "Here are a couple of photos of a stainless steel urinal we manufactured a few years back. Our company, Britex, specializes in manufacturing hinged grate style stainless steel urinals for the Australian market. These urinals are most commonly installed here in public toilets, sports stadiums, bars, clubs and most public amenities. For this project, the client wanted "something different", so we manufactured our Britex SaniStep Urinal in a way that it could incorporate a Plasma TV into the back wall of the urinal. Normally this back wall is just a stainless steel sheet. In addition to being able to watch TV whilst using the urinal, the user also gets a pretty great view of the adjacent sea baths. There's inspiration for you!"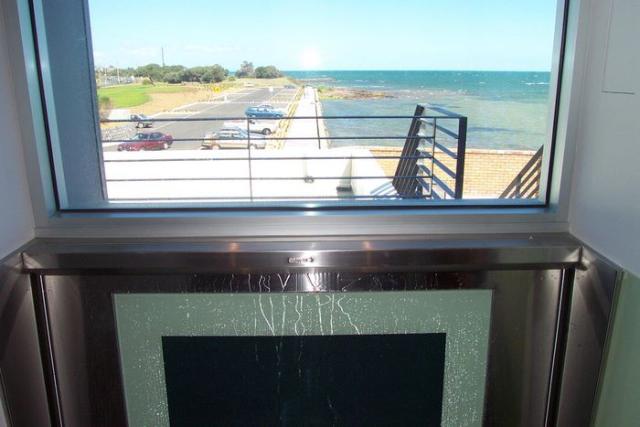 About the Middle Brighton Baths: "Whether it's to take a swim in the historic sea baths, relax in the café or celebrate with friends with one of our specially catered functions, the Middle Brighton Baths offer you the relaxation and hospitality locals have enjoyed since 1881. The Middle Brighton Baths are situated a short drive from Melbourne's CBD, five minutes from St Kilda, no more than a single step from the white sands of Brighton Beach. The Baths offer all that is best of beach lifestyle, combining excellent food, beautiful views and spectacular swimming to provide you with an experience unique to Melbourne."